Summer Retreat Photos
"Hands On–Hands Up"
Southwestern Oregon Community College, Coos Bay, Oregon
July 27-29, 2007
Most of the attendees gathered for a group photo Saturday evening on the stairs of the Empire Hall Lobby.
Meals were held in Empire Hall dining room. There was always time for networking and making friends.
The Friday evening workshop, "Engaging Girls in Science," was lead by Wendy Colby, Bend's President. Everyone participated in the hands-on science experiments.
Linda O'Hara, state LAF Fund Liaison, and Mardy Stevens, state President involved in conference preparations.
Dixie Swenson & Connie Dunkelberger of Northwest Girls Collaborative Project presented "STEM-A Collabrative" to an early morning crowd.
Joanie Weatherly, Clatsop Community College College/University Rep, spoke about "Making College Connections."
Briteny Hall, 2007 Oregon NCCWSL Scholar, shared her experiences with the AAUW of Oregon attendees during the "Making College Connections" presentation.
State president, Mardy Stevens, presented "A More Vibrant, Mission-Driven Future" on Saturday morning.
Over forty members attended the hands-on computer workshop "Internet-cessities" on Saturday afternoon to learn more about the information and materials that are available on the AAUW national and state Web sites.
AAUW of Oregon members accessed the state web site on Dell computers in the SOCC computer lab. Workshop presenters were Joyce Zook, Betty Diamond, and Betsy McDowell.
Pat Lehman, state Programs VP, introducing a speaker.
A brain-storming/problem-solving session during the "Models for Membership–R & R" presentation.
Maggie Burton, NW District Director presented the "Models for Membership" workshop in collaboration with Penney Hoodenpyle, AAUW of Oregon Membership VP.
Sandy Melo and Julie Skinner presented a reading/dialogue about the future of AAUW titled "Extinction."
Botanist Dennis Phillips leading the nature walk.
Empire Lakes Nature Walk: Deborah Rudd and Dennis Phillips, South Slough, NERR. Pre-dinner exercise and education.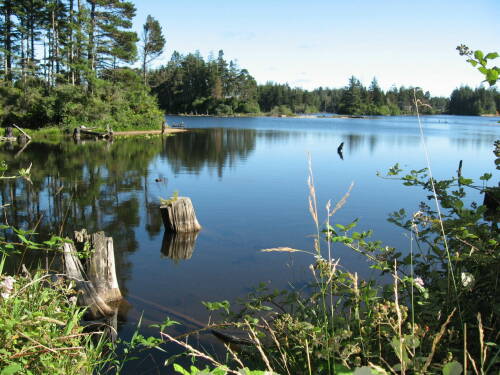 Trail beside lake on nature walk.
On left: State newsletter editor Sally Hollemon photographs Barbara Paulson, state EF Chair, as group begins to gather for Barbara's presentation on Saturday night. On right: Convention 2008 planners prepare for their presentation, which followed shortly after Barbara's.
All photography by Sally Hollemon, state newsletter editor, and Betty Diamond, state Web site manager.