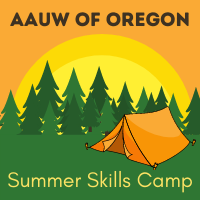 This "summer camp" was held online to respond to the needs and suggestions of our members. These Zoom sessions were held in the evenings and on weekends to accommodate everyone over this two-week period. Now you can tune in to our YouTube channel to view the ones you missed! Pick and choose from these free sessions
Summer Skills Camp 2020 Program
Session recordings can be watched on AAUW-OR's YouTube Channel:
The Votes for Women Movement in Oregon and the Continuing Struggle for Democracy and Human Rights in our State and Nation,  Kimberly Jensen, Professor of History and Gender Studies at Western Oregon University.
Working Effectively with Social Media to Promote your Branch and your Mission, Kelli Matthews, Senior Instructor, Public Relations, School of Journalism and Communications, University of Oregon, Eugene Branch AAUW.
The Work We Need to Do,  Trish Garner, public policy chair AAUW Oregon, Portland Branch
What do AAUW State and National do for us? And what about that strategic
plan?  Moderator Georgia Applegate, immediate past president, AAUW Oregon. Panelists: Kim Churches, CEO of AAUW; Pat Lehman and Sue Klumph, co-presidents of AAUW Oregon; and Betsy McDowell, governance co-chair of AAUW Oregon. These seasoned leaders will discuss topics such as leadership development and growth for branches and individuals. Unfortunately, the recording of this session failed, so no YouTube video is available.
Making Meetings Worthwhile, and Fun!  Claudia Gray, co-governance chair, AAUW Oregon. This experienced AAUW leader has been a past state president and involved with AAUW nationally for many years. Her program will show you how to run a great meeting.
Exemplary Branch Programs, Pat Lehman, co-president AAUW Oregon. Join this 25+ year-member and experienced leader while she introduces members from four Oregon branches describing successful programs that your branch can adapt or replicate.
Where Will We Find Our Next Leaders? Are You One?  Pat Squire, program vice president AAUW Oregon, Lake Oswego and Tigard Branches. From her perspective as a non-profit leader for 30 years, Pat will lead a discussion of how we identify and cultivate our next leaders.
Mindful Activism with Self-Care, Barbara and Julia Weinberg, (Mom and daughter), AAUW members and Seaside Wellness Center. The presentation will include a mindful awareness activity for calming the mind and body, for not ruminating on what you aren't doing, but living a life where you are comfortable with all you are doing.
AAUW Oregon Membership Matters!
Sue Klumph, co-president AAUW Oregon, Grants Pass Branch, Online Branch. Participants  discuss recruiting, engaging, valuing and retaining members in our branches, and how we can adjust our thoughts about membership to fit into a virtual reality.
Moving Forward and Celebrating AAUW, Sue Klumph, Pat Lehman, state leaders and all participants. Join us for this participatory round-up (think end of camp, Kumbaya!). What can we realistically do moving forward?