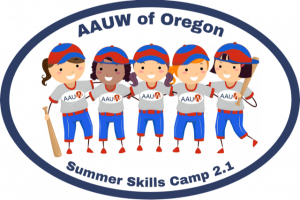 These sessions are available on the AAUW of Oregon YouTube channel
Each session is separately linked below.
Throwing Out the First Pitch: Why We Are in AAUW – YouTube
Team 2BD: Changing the SySTEM, West Linn High School Robotics Team
This lively STEM group explains what their team does, their purpose and goals for students, and how they connect with the community. They discuss their volunteer events, their outreach to middle schools and incoming freshmen, and the ways they get students involved in STEM through after-school programs and summer camps.
The Dream Team: The Care and Feeding of Volunteers
Dawn Johnson, AAUW California
This presentation explores ways to recruit, empower, thank, and more importantly, KEEP the modern volunteer. Ms. Johnson has over 15 years of experience leading nonprofit boards and volunteer groups. Come away with new ideas for engaging your members and revitalizing your branch.
The Scorecard and Statistics: Website Fundamentals and Maintenance
Kelli Matthews, Ilga Ross, Suzanne Wicklin
A good website can serve as the go-to location for branch information and enhance your marketing and membership efforts. This session starts with principles and practices for an effective website, including tips on how to plan content and structure, presented by Kelli Matthews, senior instructor in public relations at U of O. Following that, Ilga Ross gives some simple instructions on how to update websites that use the AAUW standard theme. The final segment is a maintenance schedule by Suzanne Wicklin, who has many years of experience with the Grants Pass branch website.
Click here for Kelli's Slides>
Click here for Suzanne's handout>
Throwing a Strike: Critical Race Theory (CRT): What it is, What it isn't, and Why Now?
Trish Garner, curator of AAUW-OR's Series on Racism
Join Trish as she discusses another urgent topic on racism. You may have heard about "CRT" from a variety of sources and heard completely different descriptions of the concept. Trish will be presenting and initiating a discussion about CRT, a timely element of the discourse on race. Bring your questions or send them to Trish beforehand. As usual, this promises to be an interesting, informative, and possibly challenging session!
Click here for CRT bibliography>
Click here for Trish's presentation>
Hitting a Home Run: Creating and Completing a Successful Branch Project 
Featuring Public Policy Projects by Lisa Phipps (Tillamook), Regina Ayars (Ashland), Arlene Lemieux (Gresham Area). Moderated by Pat Squire, AAUW-OR Program VP.
In a recent conversation with branch members about public policy, several members indicated that their preferred way of engaging their branch in policy issues was by doing a special project that engaged many branch members. These three branch leaders will describe how they initiated their projects and why, how they implemented them, and what the results were.
Listen up! There are examples here that you can modify and use for your own successful project!
Click here for Regina's presentation slides>
Lighting Up the Scoreboard: Is MailChimp for your Branch? Strengthen Your Email Communications!
Randa Blanding, Tigard Area Branch Communications Chair
Join Randa for this hands-on demonstration about using MailChimp, the web-based email marketing service that helps you design email newsletters. She will describe easy steps for creating an account, a mailing list, a campaign, and how to send (and replicate) the campaign. Learn how the Tigard branch has transformed its email communications to make them attractive, readable and compelling.
Click here for Randa's handout>
Extra Innings: Don't Let "Stuff" Stop You: Maybe it's Time to Step into a Smaller Space and Stride into a Bigger Life!
Linda Liebenstein, Friendly Move Management Company owner and AAUW member.
The title says it all – don't let stuff stop you from downsizing and moving into a smaller, more livable space. Does your stuff complicate your life? Do you have stuff that makes you work? Do you have stuff that makes you feel guilty? Do you have stuff that demands to be cleaned, mowed, painted, or repaired? Do you have stuff that does NOT belong to you? If you answered yes to any of the above, join this expert to talk Downsizing.