Friday APRIL 14 – DINNER – 6:45pm
Keynote: Different Voices, Common Good: Building Community and Partnerships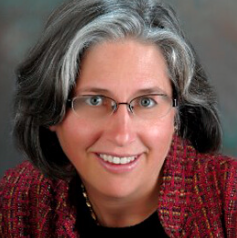 Jeanne Stallman, Associate Vice President for Government & Corporate Relations, Southern Oregon University (SOU); Founder, Women's Leadership Conference.
In a fractious, socially challenged post-pandemic world, how do we build community?  Ms. Stallman will explore ideas raised by women from three different continents, whose completely unrelated books offer clues to building partnerships that underlie strong communities.
In three decades at SOU, Jeanne Stallman has worked in each of the major divisions of the University, and has been instrumental in starting multiple community-oriented programs, such as Southern Oregon Learning in Retirement, now the OLLI program, and the Women's Leadership Conference. More recently, her work takes her to Salem and Washington DC to advocate for the transformational value of higher education. As a strategic thinker with a strong commitment to community service, Jeanne's goal is to help build a strong, healthy community in which individuals have the opportunity and resources to flourish.
Saturday, APRIL 15, 9:00am
Plenary Session: Uniting to Serve Our Community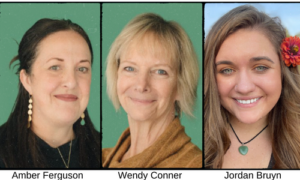 Amber Ferguson, Co-Founder and Executive Director, Rogue Food Unites; Wendy Conner, Director or Programs and Production, Rogue Food Unites; and Jordan Bruyn, Co-Executive Director, Rogue Action Center.
Hear the incredible first-hand story about Rogue Food Unites (RFU), formed in 2020 out of the dual disasters of the Almeda and Obenchain fires and the impacts of COVID-19 on local communities.
Within a short time, RFU began contracting with the State of Oregon to supply hot meals, food boxes and solidarity cards in five southern Oregon counties. Through partnerships with regional restaurants, farms, vendors, and stores, RFU has recirculated nearly $20 million into the local economies since September 2020, meanwhile providing 1,431,665 meals to displaced and impacted people. You can get more information about RFU at their website.
Amber Ferguson has dedicated her career to hospitality and efficiency. Born and raised in the Rogue Valley, after college Amber spent 15 years in Portland, working in food service and cultivating a reputation as a host and connoisseur of fine wine and excellent restaurants, having helped thousands of people every year. She is passionate about heart-centered work, and through her work at RFU, she has been able to feel more connected to her community. She lives in Ashland with her family and a menagerie of animals.
Hailing from upstate New York, Wendy Conner made the exodus westward early on, spending several seasons working for the US Forest Service and the National Park Service in Alaska, Wyoming and Colorado as a ranger, park interpreter, EMT and hotshot wildland firefighter. Settling in Ashland, Wendy has worn many hats in the non-profit sector, ranging from event coordinating to film festival programming, from rowing to community storytelling.
In the wake of the Almeda and Obenchain fires of 2020, her heart found its home at Rogue Food Unites; first as a volunteer delivering hot meals to fire-affected community members throughout Jackson County and then coming on staff coordinating Operations.
As the Director of Programs and Production, Wendy is the lead in all things production and volunteer, managing the Provisions Box program and Neighbors Unite Farmers Markets, and welcoming and coordinating volunteers. Wendy is a warm face in the community and knows everyone, and everyone knows her. She is honored to work with this incredible team; being in service to community and spreading joy everywhere she can.
Wendy spends her time away from work hosting friends, playing with her family and is always on the trails with her husband and pup. She also really loves the Avett Brothers.
As a first generation college graduate, Jordan Bruyn studied Criminal Justice/ Criminology and Native American Studies as a Ronald E. McNair Postbaccalaureate Achievement Scholar at Southern Oregon University. She became more involved in local community organizing and mutual aid efforts during the covid-19 pandemic and 2020 wildfires as a volunteer and intern with Rogue Climate and Rogue Action Center (RAC).  Now as Co-Executive Director of RAC, she is dedicated to developing new leaders and enjoys finding collaborative solutions to reach our collective liberation. Located in rural Jackson County, Jordan gladly spends her free time with her goats, listening to podcasts and taking on new hobbies. She is an enrolled member of Cow Creek Band of Umpqua Tribe of Indians. 
For more information about Rogue Action Center visit the website. 
10:15am
MESSAGE FROM THE NATIONAL BOARD
Malinda Gaul, Vice Chair, AAUW National Board of Directors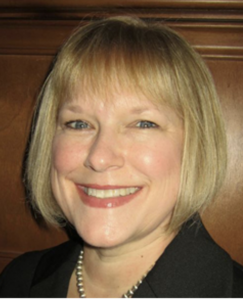 Ms. Gaul practices employment law in San Antonio, Texas and has worked with several non-profit organizations to advance the rights of women. She has served in a variety of AAUW positions at all levels, including President of AAUW Texas.
LUNCH – NOON
BREAKING BARRIERS ACHIEVEMENT AWARD
Recipient: Andrea Reeder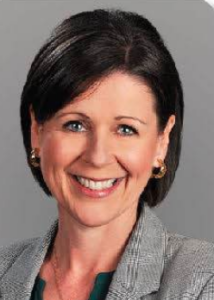 Andrea Reeder, vice president and executive director of the Asante Foundation in Medford will receive the award at AAUW Oregon's Annual Meeting and Conference on Saturday, April 15 during the awards luncheon.
Asante Foundation is the philanthropic arm of Asante, which has three hospitals and 30+ primary care and specialty clinic locations in southern Oregon.  The mission of Asante Foundation is to generate private support and encourage community involvement.  Andrea Reeder's focus is to enhance the nationally recognized medical care delivered by Asante.  In her position, Andrea advocates for and mentors women who are working and going to school.  Her executive leadership position allows her to ensure equal treatment and advancement for women in the organization through policy and culture change.
The Breaking Barriers Achievement Award has been given since 2015 to recognize a woman or organization, not currently a member of AAUW, for exemplifying AAUW's mission and positively impacting our state's women and girls in the areas of equity and/or education. Mardy Stevens, Gresham Branch, is the coordinator of the award.
SATURDAY AFTERNOON BREAK-OUT SESSIONS
1:45-3:00pm
 1A) The Path to Probation and Prison: Advancing Gender Equity for Justice Involved Women
Tira Hubbard, Deputy director, Jackson County Community Justice.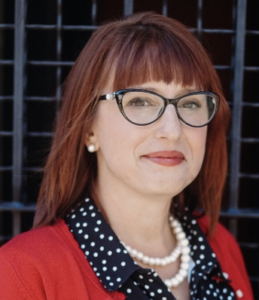 Women make up 25% of our justice involved population and have unique pathways into the justice system. Oregon has led the Nation in developing strategies to create equity and success for mothers, children and women that are systems involved. This workshop will highlight the pathways of women, the systems response, and the ways that community can empower women to create better outcomes.
Ms Hubbard is a national presenter on trauma, staff resilience and developing gender responsive practices for justice involved women. She has 27 years of experience in person-centered services. She started her career in victim advocacy and systems advocacy with victims of domestic and sexual abuse. She is the Oregon representative to the American Parole and Probation Association and a board member of the Association of Justice Involved Females and Organizations.
2A) Road Map for Developing Leadership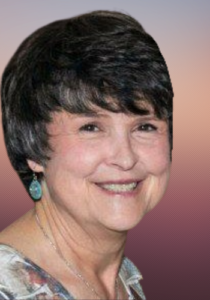 Joyce Zook, Central District Director, Salem Branch, moderator.
Branch panelists include Darlene Barlow, Salem co-membership vice president; Karen Beck, Seaside co-president; Pat Hines, Wallowa County finance vice president; Catherine Lutes, Ashland co-president; and Donna Wellington, Hillsboro-Forest Grove president.
During this exercise in interactive sharing of best practices, the panel of Oregon Branch leaders share their experiences, and you will:
Learn what motivated them to step up to leadership
Discover their successes and challenges to achieve goals
Share methods of engaging and keeping volunteers
Create a roadmap for your branch's leadership in 2023-24
BREAKOUT SESSIONS
3:15-4:30pm
1B) Diversity, Equity, Inclusion and Belonging: Models for Action
Trish Garner, AAUW Oregon DEIB Officer, Portland Branch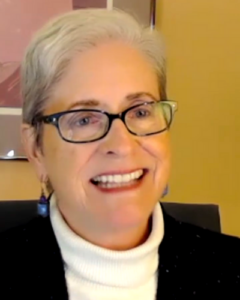 Wondering what you can do to bring the principles of DEIB to your Branch and your community? We will be hearing and talking about how to accomplish this goal, and learning about why this topic is so important to your Branch and its members.
Please bring along your own reports of DEIB activities to share, whether successful or not. We can all learn from each other's experiences.
2B) Sharing Successful Mission-Related Programs and Projects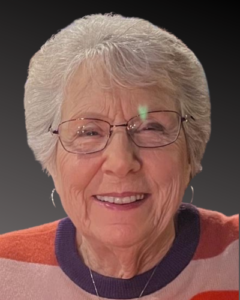 Judy Silverforb, Tigard Branch program vice president, moderator.
Panelists include Dolores Mlynarczyk, Salem Branch; Karen King, Pendleton Branch; Catharine Hojem, president, Lake Oswego Branch; Nancy Lester, co-president, Grants Pass Branch.
This session will provide examples of successful projects and branch programs, and involve the audience with telling their success stories. Strategies for applying some of these ideas to your branch will be discussed.
3B) Women and Wine: Resiliency, Motherhood, and Creating a Path in a Male-Dominated Industry
Rachael Martin, Winemaker, Red Lily Vineyards, Jacksonville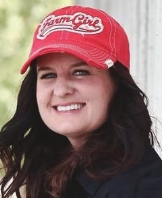 Join Ms. Martin to hear her story about how she learned to love wine and become a winemaker. She's rumored to be bringing a few special samples!
After growing up in Southern Oregon, Rachael Martin graduated from the University of Nevada in 1992 with a BS degree in Criminal Law. She spent 5 years working with the U.S. Customs Department and Hunting World USA, prior to drastically shifting her focus to the wine industry. She apprenticed at RoxyAnn Winery in Medford learning to make wine under three different accomplished winemakers. She enhanced her hands-on education by taking enology classes at UC Davis and SOU. With the opening of Red Lily's winery and tasting room in 2011, Rachael has continued to make wine at her new facility and has received growing recognition as an important and emerging winemaker. In addition to handling all of the primary winemaking functions, she also oversees operations in the tasting room and the vineyard.
SPECIAL SESSION
4:45-5:30pm       Unwind with Dina: Chair Yoga, All Levels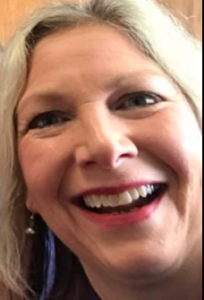 Dina Press, Grants Pass Branch, Certified Yoga Instructor
This session will conclude a day of meetings and conversations, and is a chance to relax and unwind before the evening festivities. This class is a therapeutic practice supported by the chair, with an emphasis on strengthening the knees, opening the hip flexors and low back. Relax your mind and body with this gentle collection of basic postures, with an emphasis on the breathing to create a sense of calm. Dina has been teaching yoga for over 20 years and is a Certified Yoga Instructor E-RYT 200-
YACEP.
Saturday DINNER – 6:30pm
Hear from Three AAUW Local Scholarship Recipients, what they studied, what they've done since receiving their scholarship, and what AAUW means to them: Echo Anderson, Ashland; Kristen Morales, Grants Pass; and Melissa Fritts, Medfo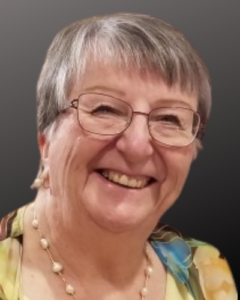 rd, will be interviewed by Georgia Applegate, Grants Pass Branch.
Be inspired as you hear these remarkable young women tell their stories and talk about their goals and ambitions, and how AAUW's assistance has made a difference.
SUNDAY, APRIL 16, BREAKFAST BUFFET – 9:00AM
CLOSING SPEAKER – State Representative Pam Marsh, District 5

Rep. Marsh was first elected to House District 5 in southern Oregon in November 2016. She currently serves as Chair of the House Committee on Energy and Environment, and is Vice-Chair of the House Special Committee on Wildfire Recovery, along with a number of other committee assignments. Prior to joining the Oregon Legislature, Pam served the City of Ashland as a City Councilor for four years, and as a member and chair of the City Planning Commission and a member of the Ashland Charter Review Committee. She has a long history of non-profit and community leadership.