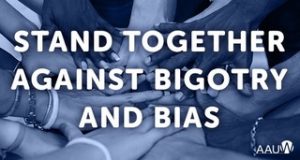 AAUW, (American Association of University Women) with its nationwide network of approximately 170,000 members and supporters, 1,000 branches, and 800 college and university partners, has been a leading advocate for equity and education for women and girls since 1881.
Join us on Facebook at AAUW of Oregon
AAUW of Oregon Priorities
Click to see the priorities selected for AAUW of Oregon for 2016-18:
Membership
Membership is open to all graduates who hold an associate or equivalent, a baccalaureate, or higher degree from a college or university on the AAUW list of qualified institutions. Student affiliate memberships are also available for those currently enrolled in a qualified institution of higher learning.
AAUW of Oregon Public Policy Program
AAUW of OR PP Program Goals-2015-17
Instructions on how to become a Two Minute Activist
Oregon AAUW Members ready to lobby on Capitol Hill during the 2017 National Convention in Washington, DC
About the Member Center
There are many pages on this Web site that are available for browsing and we hope that our visitors find them to be both enjoyable and informative (click navigation buttons above).
In addition, there is a second part to the site that is non-public. It is called the Member Center and that is where members of AAUW will find the forms, lists, and documents that are the basic tools for the smooth running of our organization. Back issues of the state newsletter are available also.
To log-in to the AAUW Oregon Member Center, follow the procedure outlined in the Frequently Asked Questions (FAQ) section of this website.