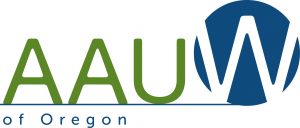 AAUW of Oregon joins the country and our other branches in other states in mourning the losses of George Floyd, Ahmaud Arbery, Breonna Taylor and countless other people of color who have been unjustly killed across our nation. Our country needs healing. But healing will only come with justice. As an organization we condemn racism.
Systemic racism is firmly rooted in the U.S. and today's injustices mirror our shameful history — from police brutality to the disproportionate impact of COVID-19 on communities of color. There can be no justice or equality when Black and Brown communities are seen as less deserving of basic human and civil rights.
We in Oregon have seen this in our own history.On behalf of our 1300 members and supporters, we commit to fighting for justice, long-term and lasting change, and we stand in solidarity against racism. We also acknowledge that as an organization we have our own work to do.
AAUW of Oregon will continue to advocate with strength and urgency for a time when safety and justice are rights shared by everyone.
AAUW of Oregon Covid-19 Guidelines – September 3, 2020
 AAUW CEO Kim Churches writes:  "Given that you are your own IRS sanctioned charity and that your geography is different than the DC metro area, we continue to advise to follow local elected officials' guidelines and local public health requirements."
AAUW National staff are not currently holding in-person meetings or official travel and do not plan to do so until at least 2021.
However, National continues to recommend that States and branches bear in mind that the average age of our members is 72+ and that members in the more vulnerable age group and anyone with underlying conditions take all possible precautions.
AAUW of Oregon strongly advises all branches to refer to the State of Oregon and local directives before planning meetings or events.  The health, safety and welfare of our members is our highest priority.
The most up-to-date state and county information can be found at https://govstatus.egov.com/OR-OHA-COVID-19.
Public Policy – AAUW of Oregon in Action!

AAUW

of Oregon Priorities
Click link to see the priorities selected for AAUW of Oregon for 2018-2020:                                     AAUW of Oregon Priorities
Handy Links:  
Work Smart – free online salary negotiation training workshop:

AAUW wants to help new graduates feel confident about entering the job market. Sign up for Work Smart Online, a free salary negotiation course. https://aauw.us/5gradsyouknow
Membership
Membership is open to all graduates who hold an associate or equivalent, a baccalaureate, or higher degree from a college or university on the AAUW list of qualified institutions. Student affiliate memberships are also available for those currently enrolled in a qualified institution of higher learning.
About the Member Center
There are many pages on this Web site that are available for browsing and we hope that our visitors find them to be both enjoyable and informative (click navigation buttons above).
In addition, there is a second part to the site that is non-public. It is called the Member Center and that is where members of AAUW will find the forms, lists, and documents that are the basic tools for the smooth running of our organization. Back issues of the state newsletter are available also.
To log-in to the AAUW Oregon Member Center, follow the procedure outlined in the Frequently Asked Questions (FAQ) section of this website.