AAUW of Oregon
 Summer Skills Camp – August 3-August 16, 2020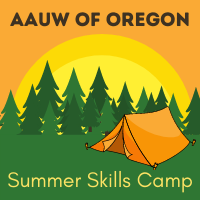 This "summer camp" will be all online this year, responding to the needs and suggestions of our members. These Zoom sessions will be held in the evenings and on weekends to accommodate everyone over this two-week period. Pick and choose the free sessions you would like to attend, and fill out the registration form so you will be able to log onto these zoom sessions. All sessions will be interactive with time for Q&A and some may ask you to do some reading or submit some questions in advance. (Zoom practice sessions available – see registration.)
Viva, Virtual! We hope to see you soon! Happy Camping!
AAUW of Oregon joins the country and our other branches in other states in mourning the losses of George Floyd, Ahmaud Arbery, Breonna Taylor and countless other people of color who have been unjustly killed across our nation. Our country needs healing. But healing will only come with justice. As an organization we condemn racism.
Systemic racism is firmly rooted in the U.S. and today's injustices mirror our shameful history — from police brutality to the disproportionate impact of COVID-19 on communities of color. There can be no justice or equality when Black and Brown communities are seen as less deserving of basic human and civil rights. We in Oregon have seen this in our own history.
On behalf of our 1300 members and supporters, we commit to fighting for justice, long-term and lasting change, and we stand in solidarity against racism. We also acknowledge that as an organization we have our own work to do..
AAUW of Oregon will continue to advocate with strength and urgency for a time when safety and justice are rights shared by everyone.
Memo to all AAUW of Oregon Members Regarding
Social Distancing, In-person Meetings during the Pandemic
A question was asked if there is any state (or national) policy governing AAUW meetings as Oregon begins to open back up. A member is concerned that some interest groups might start meeting before it is safe to stop social distancing and whether AAUW could be then liable for members getting sick.
In consultation with our AAUW of Oregon Board of Directors and Kim Churches at National, I am issuing the following advice to all branches and branch members.
Kim Churches gave this strongly worded advice with which I concur:
"You MUST follow your Governor's and Mayor's guidance. We at National have strongly advised absolutely NO meetings in person for the foreseeable future for all affiliates (branches/states), and in compliance with local/state guidance/orders. Our state/local laws supersede in this exceedingly difficult time. Better for all AAUW members to absolutely shelter in place and meet virtually via Skype, FaceTime, Zoom or conference calls."
 As President of AAUW of Oregon I am strongly advising that all branches do not have any in person meetings until Governor Brown lifts her "Stay at Home" order. That includes Interest group meetings. No branch should sanction any meetings of any group within the branch. If you need any information or help in setting up virtual meetings, you may contact our State Technology Committee Zoom expert, Nancy Brown, Events Coordinator, aauw.or.events@gmail.com for assistance.
AAUW of Oregon Public Policy
AAUW of Oregon in Action!
AAUW of Oregon Priorities
Click link to see the priorities selected for AAUW of Oregon for 2018-2020:                                     AAUW of Oregon Priorities
Handy Links:  
Work Smart – free online salary negotiation training workshop:
Do you have a friend or family member who is getting ready to graduate? AAUW wants to help new graduates feel confident about entering the job market. Join AAUW in getting #5GradsYouKnow to sign up for Work Smart Online, a free salary negotiation course. Register here: https://aauw.us/5gradsyouknow
Membership
Membership is open to all graduates who hold an associate or equivalent, a baccalaureate, or higher degree from a college or university on the AAUW list of qualified institutions. Student affiliate memberships are also available for those currently enrolled in a qualified institution of higher learning.
About the Member Center
There are many pages on this Web site that are available for browsing and we hope that our visitors find them to be both enjoyable and informative (click navigation buttons above).
In addition, there is a second part to the site that is non-public. It is called the Member Center and that is where members of AAUW will find the forms, lists, and documents that are the basic tools for the smooth running of our organization. Back issues of the state newsletter are available also.
To log-in to the AAUW Oregon Member Center, follow the procedure outlined in the Frequently Asked Questions (FAQ) section of this website.