We express our profound shock and disappointment about the events that took place on January 6, 2021, in Washington, DC and elsewhere. We also affirm our commitment to our democratic principles. Our country's democracy is undeniably imperfect, but it represents a worthy ideal. Violence in the name of a political point of view should not be tolerated.
Public Policy Chair –

Trish Garner
The AAUW Oregon State Public Policy Committee maintains an email list to keep members informed about issues in Salem.  Updates are sent periodically and, as the session heats up, there may be calls to action.  If you want to receive these emails, or to contact a member of the AAUW Oregon Lobby Corp, email Trish Garner, Public Policy Chair.
The Latest from AAUW of Oregon Public Policy:
AAUW of Oregon Public Policy Supports:
Public Education: Pre-K through Higher Education
Adequate stable public funding at all levels
Equal education opportunity for all with emphasis on protection and preservation of intellectual freedom and access to broad-based education
Opposition to public funds for vouchers, private schools, non-accredited education programs
Improved funding for academic and workforce programs, faculty, staff and students
Protection of programs that meet the needs of girls and women in elementary, secondary and post-secondary education, including vigorous enforcement of Title IX and all other civil rights laws pertaining to education
Increased grant assistance for child care costs of student parents
Elimination of Discrimination and Violence
Laws that protect all persons, without regard to gender, race, creed, sexual orientation, national origin, disability, age or class
Programs that eliminate bullying and sexual harassment and violence
Programs which address human trafficking
State and Local Government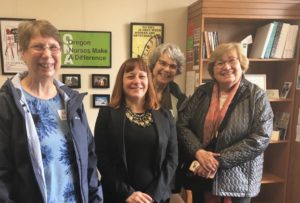 Fair and equitable taxation at all levels of government
Collection by state of adequate data for evaluation of business tax credits
Restructuring of Oregon's income and property tax system
Eliminate the Kicker and establish an adequate reserve fund
Reaffirmation of the separation of church and state
Adequate long-term funding for education, public safety and human services
Improved public access to the legislative process
Accountability and transparency in government operations
Health Care
The right of all persons to have access to reproductive health care options of their choice.
Universal availability, accessibility and quality health services
Economic Self-Sufficiency
Pay equity and fairness in compensation
Greater availability of and access to benefits that promote work and life balance
Redesign and refunding of the Parents as Scholars as part of the Temporary Assistance for Needy Families program (TANF)
To print the information on this page without the website header, click the link below:
View or print the brochure or program statements from national by clicking the links below. (You must have Adobe Reader on your computer.)