Oregon Online Branch Celebrates Fifty Years of Title IX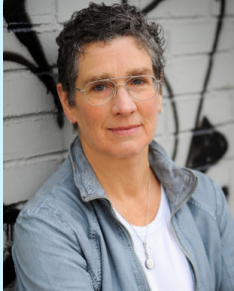 Lucy Jane Bledsoe, a Portlander and graduate of Wilson High School, is the author of No Stopping Us Now, her personal story on Title IX and its impact on her as a young teen. While the book is listed as young adult fiction, it is based on her own true story. She spoke to Online Branch on June 14, 2022, via Zoom.
Click HERE for Lucy's website.  Click HERE for the YouTube link.
********************************************
AAUW Support for Education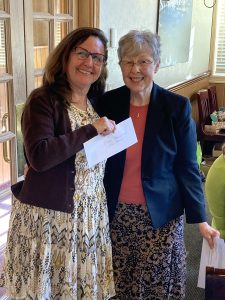 "The Gresham Area Branch of the American Association of University Women (AAUW) received a Certificate of Appreciation from the Mt. Hood Community College Foundation for endowing a scholarship at the college. The Foundation also presented Gresham Area Branch with a Heroes for Education Award in 2021 for outstanding support of students through unprecedented times.
Gresham Area Branch presented Oregon Tradeswomen, Inc. with a $500 gift from their Gladys Forrester Community Education Grant for use in their Ready to Earn Fund, supplying female students with tools and safety gear for the jobs they have secured as part of the OTW Pathways to Success program. The branch is proud to participate in OTW's programs which educate and empower women. Diana Ricks, from the AAUW Lake Oswego Branch Scholarship Committee, also presented a scholarship to OTW."
********************************************
Diversity in Leadership Takes Flight at the Bend Municipal Airport

In a presentation featuring Bend Municipal Airport Director Tracy Williams, the Bend Branch celebrates and explores diversity in leadership with a guest speaker who has broken barriers in a variety of ways on her successful professional path. Tracy shares her story and the challenges along the way: from intrigued 5-year-old to achieving degrees in aeronautics and aeronautic science, serving in the Air Force, and finally to directing activities at Bend Municipal Airport.
********************************************
Critical Race Theory: Clarifying the Origins of the Disinformation Campaign

Marvin Lynn, Ph.D., Former Dean of the School of Education,
Portland State University.
CRT Slide Show        CRT Slides (pdf)
Dr. Lynn conducts research on race, education, the work and lives of Black male educators, and best practices for advancing teacher diversity in the United States. The Handbook of Critical Race Theory in Education, which Lynn co-edited with Adrienne Dixson, is regarded as one of the most important resources on race and education. Lynn has served on a number of editorial boards including Urban Education, Review of Educational Research, and Critical Education. Currently he is on the Board of Directors for the Carnegie Project for the Education Doctorate as well as number of boards and councils in the State of Oregon. Dr. Lynn received a Bachelor of Science in Elementary Education from DePaul University in Chicago, a Master of Arts in Education from Teachers College-Columbia University, and a doctorate in Education & Social Sciences from UCLA.
********************************************
Salem Branch AAUW Oral History Project, 2019-2020
The goal of this project was to honor our lifelong members who have contributed to the Salem Branch longevity and success. In doing so, we wanted to capture the stories and voices that had not been heard.
Honored Members interviewed for this series are Jo Bateman, Marian Churchill, Rae Everitt, Gloria Martin, Evelyn Lorence Smith, Carol Neiger, Heraldine Schwartz, Meridee Sheehy, and Joanne Stern.
We were so fortunate to have made the connection with CCTV (Capitol Community Television). Gloria Holland and Dolores Mlynarczyk met with Wendy Brokaw, Outreach Specialist at CCTV, to discuss the plan and to develop a timeline. Joanne Stern made reservations at Capitol Manor for the videotaping sessions. A list of questions to be asked were sent to members who were to be interviewed during the project.
This project was made possible, in large part to Wendy Brokaw's skills, who single handedly made these stories come alive. Additionally, Gloria Holland, a gifted, talented and experienced playwright, was able to make the interviewees feel comfortable, like having conversations.
Dolores Mlynarczyk, Membership VP and Salem Branch member for over 20 years.
********************************************