Our History
Those ivory towers were mostly white and male in 1881, when Marion Talbot called together the first generation of alumnae. Seventeen women attended. A year later, they formally created a group to help women establish their new place–at school and at work–in a man's world. Today AAUW has 170,000 members nationwide.
Did you know that –
In 1888 AAUW gave Ida Street $350 to pursue graduate research–possibly the first fellowship of its kind in any country.

In 1920 Marie Curie received $156,413 toward the purchase of a gram of radium.

To date the AAUW Fund has helped 7,500 women worldwide achieve their personal goals.

Total fellowships, grants, and awards now exceed $5 million annually.

Awardees include former secretary of U. S. Department of Health and Human Services Donna Shalala, anthropologist Margaret Mead, and astronaut Judith Resnick.
Women's brain overuse causes body to be harmed?
When, in the 1880s, a Harvard doctor claimed higher education jeopardized women's health, people believed him–until AAUW research proved him wrong. Since then, AAUW Educational Foundation studies on sexual harassment, gender bias in the classroom, girls and computers, women's transitions through work and school, pay equity, and more have made headlines and sparked change across the country.[Source: AAUW pamphlet # 329-01]
Celebrating 100 Years of Women's Suffrage in Oregon, 2012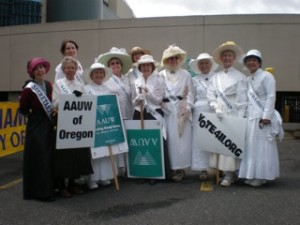 History of AAUW in Oregon
Portland Branch was the first Oregon branch of the Association of College Alumnae (ACA), later AAUW. An 1895 graduate of Stanford University, Elizabeth Chapman Donald, brought the idea to Oregon and, with 12 others, established Portland Branch of ACA in 1905.
Initially the mission of the branch was basic: to provide a place where women with college degrees could socialize and to raise money for a scholarship to support a high school girl to go to the state university in Eugene.
However, the University of Oregon was not ACA accredited. Criteria for accreditation included having a proportion of women on the faculty, sufficient majors open to women, and housing for women. In order for the branch to offer a scholarship, the university had to come into  compliance with the association's requirements.
Work toward ACA Accreditation began in 1913. Under the direction of Irene H. Gerlinger, a Portland branch member, funds were raised to assist the University to build a "women's quad." They staged plays to fundraise, but when that was not enough, they lobbied the legislature and gained the cooperation of other women's groups to reach their financial goal.  Construction on Woman's Memorial Hall was begun in 1919, opened in 1921, and renamed Gerlinger Hall in 1929.
In 1921, the ACA merged with another organization and became the American Association of University Women. Branches in Corvallis, Eugene, and Salem were established shortly thereafter, followed by AAUW of Oregon in 1924.
Ilga Ross, Communications VP, 2021
AAUW of Oregon Past State Presidents>
Past State Convention Hosts & Locations>