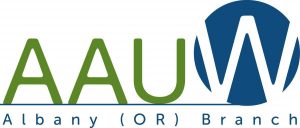 American Association of University Women advances equity for women and girls through research, education and advocacy.
One of the oldest branches in Oregon, the Albany Branch was chartered on December 10, 1932, and has been continuously active since then. We currently have 27 members with the majority from Albany and a few from surrounding areas.  Contact Membership Chair Sue Stein for information about joining.  Take a look at our Facebook page too!
Branch Meetings & Programs

Everyone is welcome!  Programs cover a variety of topics related to AAUW's mission of empowering women and girls.  After almost two years of meeting via Zoom, we're transitioning back to in-person program meetings–usually held 4-5 times/year on Saturdays or occasionally on weekday evenings.
**Our next program meeting will be at 11:30 AM on Saturday, March 5 at the Cascade Grill (I-5 and Knox Butte Road).**
The program for this meeting will be presented by members from our Great Discussions group and will center on Critical Race Theory (CRT), the 1619 Project, the 1776 Project, and the OR Department of Education's Social Sciences Standards. These topics are probably the most hotly discussed issues about educating students in many states, including Oregon–and in Albany. Members of Great Discussions have researched these topics and will share what they have learned. This program will last about one hour and be followed by a business meeting.
If you're interested in attending, please contact Heather Morijah.
**Meeting updates should be posted on our Facebook page as well.**
Projects
Education
Our College/University Partner is Linn-Benton Community College.  We fund scholarships and the Linn-Benton Lunch Box, LBCC's pantry for students facing food insecurity.
Public Policy
We co-sponsor community forums with the League of Women Voters on candidates or state ballot measures.  We lobby the Oregon state legislature annually in January or February on issues related to our mission.
Newsletters
Use this link to view branch newsletters from the past several years.
Interest groups

• STEM Committee
This group works with our branch budget to provide young women with opportunities to build careers in the fields of science, technology, engineering and math.  We have helped fund workforce training, an engineering program, SWARM robotics team, an OSU program for girls and a Makers Club at the Albany Public Library. Contact Carol Wood, our delegate to the Mid-Valley STEM-CTE Hub Advisory Board Committee.
• Book Club
Members read a different book each month and meet the first Thursday of the month for lively discussions. Contact Gail Gerdemann.
• Great Discussions
Members research a selected current international or domestic issue and discuss once a month. Contact Gail Gerdemann.
• Lunch About Town
This no-host lunch group meets at a different area restaurant on the last Wednesday of the month, but is on hiatus due to COVID-19 restrictions. Contact Judy Stanley.
Contacts
2021-22 Co-Presidents:
We'd love for you to join us!
Contact Albany Branch Treasurer Naomi Shand.  She will be happy to answer any questions.  If you have an Associates Degree or higher, you are eligible to join.