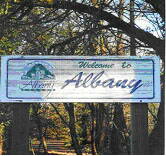 Contacts:
Co-Presidents:
Membership Chair:
The Albany branch was chartered December 10, 1932, and has been continuously active since that date. We currently have 37 members with the majority from Albany and several from surrounding areas.  If interested in joining our Albany branch, you may contact the Membership Chair, Sue Stein.
MEETINGS:
Programs cover a variety of topics related to the AAUW Mission of empowering women and girls.  Our monthly meetings are often on Saturday or on a weekday evening. Guests are always welcome.
PROJECTS:
Education
Our branch works with our College/University Partner (Linn-Benton Community College in Albany) and often sponsors tables at LBCC events to let students know what AAUW can offer them.  We also contribute non-perishable food items to their food pantry for food-insecure students.
Public Policy
We co-sponsor community forums  with the League of Women Voters on candidates or state ballot measures.  We lobby the Oregon state legislature in Salem in January or February on issues related to our AAUW mission.
MEMBER INTEREST GROUPS:
Stem Committee: This group works with our branch budget to provide young women with opportunities to build careers in the fields of Science, Technology, Engineering and Math.  We have helped fund workforce training, an engineering program, a robotics team, an OSU program for girls and a Maker's Club at the Albany Library.
• Book Club: Members read a different book each month and meet the first Thursday of the month for lively discussions.
• Great Discussions: Members research and discuss a selected current international or domestic issue once a month.
• Lunch About Town: This no-host lunch group meets at a different area restaurant on the last Wednesday of the month.
JOIN US?
Contact our Membership Chair Sue Stein, listed above. She will be happy to answer any questions.  If you have an Associates Degree or above, you are eligible to join.